Trackless Train
Trainless Track Ride in Bryan College Station
Here at Jump Around BCS, we're your partners in party perfection. Our trackless train ride options are the highlight of any event, bringing joy and laughter to kids and adults alike. With the classic train design, we're all about the timeless charm that everyone adores. Picture this: the smiles, the waves – it's a memory in the making. And if you're looking for something that breaks the mold, our John Deere tractor-style train is ready to roll, adding a dash of uniqueness to your festivities. From classic to one-of-a-kind, our trackless train rides are your ticket to an unforgettable event!
Train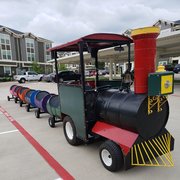 John Deere Trackless Train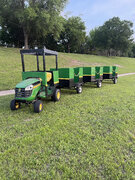 Train Ride in College Station, TX
And let's talk about making your event planning as easy as pie (or should we say cake?). We're not just about trains; we've got the whole package to make your event a smash hit. From bounce houses that'll have everyone bouncing with joy to dry obstacle course rentals Bryan Collage Station party planners use to challenge and excite their guests, we've got the gear to take your event to the next level. So whether it's a birthday bash, a community get-together, or a corporate shindig, we're here to make it epic with our top-notch rentals that guarantee a blast for everyone.