Interactive Games and Dunk Tank Rentals Bryan College Station
We've got the inflatable game rentals and dunk tank rentals Bryan College Station customers know are an exciting addition to any event. They're lots of fun and will bring endless excitement and plenty of splashes to events of all sizes! Whether you're hosting a much-anticipated family reunion, an intimate backyard birthday party, or a community-wide festival, we're the go-to choice for entertaining party rental equipment in College Station, Texas , and the surrounding areas of Brazos County.
Splash into fun with Jump Around BCS, the go-to choice for dunk tank rentals in College Station Texas! Why settle for ordinary when you can elevate your event with a game or dunk tank that's the life of the party? With our top-notch service, you'll have your game and tank set up and ready to go in no time, making us the games and dunk tank rentals Bryan College Station chooses for unforgettable gatherings.
We offer the #1 dunk tank rentals Bryan College Station has to offer, and we pride ourselves on our seamless booking process, exceptional customer service, and, of course, safety measures that are tighter than a drum. We're your ticket to an epic water-filled fiesta of fun, so browse our exciting inflatable game and dunk tank options and book online today!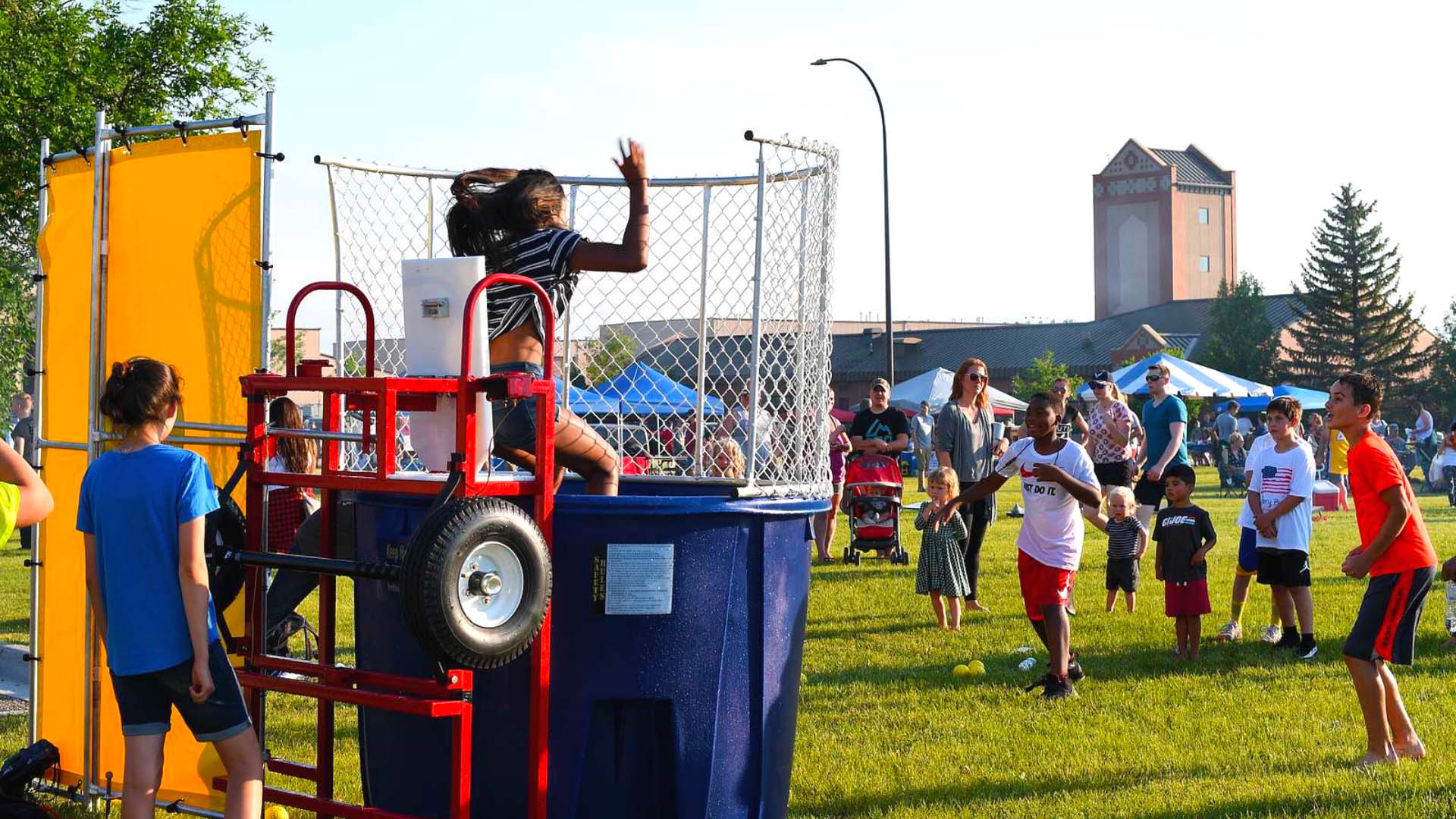 Games and Dunk Tanks Bryan College Station Uses For Every Event
We've got the games and dunk tank Bryan College Station knows are a crowd-pleaser and a wet 'n wild way to add some serious excitement to almost any event. From kids' parties to corporate events, our interactive inflatable games and dunk tanks make everything more fun, drawing people together for laughs and friendly competition. Trust us, there's nothing like the anticipation of a big splash to get everyone hyped!
Kids' Birthday Parties: A dunk tank adds an awesome twist to the usual birthday fun. Have the birthday child try their luck dunking their friends! Or book our popular Lego Toddler Play Zone for a toddler's backyard birthday celebration to keep the little ones entertained.


Corporate Team-Building: Allow employees to dunk their bosses as a light-hearted way to break the ice and build team spirit. Let employees see who can stay standing longest with our inflatable High Voltage Joust!


School Fairs: Students get a kick out of dunking their favorite teachers or even the principal, all in the name of school spirit. Allow kids to test their agility and speed with our High Voltage Wrecking Ball game.


Church Festivals: Engage your congregation in a unique way and perhaps dunk the pastor to raise money for a good cause.


Fundraisers: Charge per throw and let the splashes pile up as the donations come rolling in to support your amazing cause.


Community Fairs: Invite local celebrities or leaders to be dunked, strengthening community bonds.


Sporting Events: Let the losing team's coach take a dip or dunk the halftime show performer! Add interactive games to tailgating parties or post-game celebrations for healthy, safe fun.


Bachelor/Bachelorette Parties: The bride or groom-to-be can be the one on the hot (or in this case, wet) seat.


Family Reunions: Create memorable moments by letting family members dunk each other—perfect for settling those old sibling rivalries.


Holiday Parties: Add a unique twist to your celebration; perhaps even Santa could take the plunge for charity!



With our interactive inflatable games and the #1 dunk tank Bryan College Station has to offer, the possibilities are endless, and the fun is guaranteed!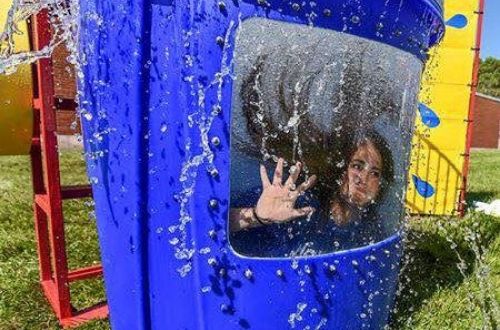 Exciting Selection of Inflatable Games and Dunk Booth Rentals in Bryan College Station
Ready to make a splash with our dunk booth rentals in Bryan College Station? For a starting rental price of just $250, our dunk tanks bring an unparalleled level of exhilaration to your event! There is nothing like dunking a friend, relative, boss, principal, teacher, etc. Our 500-gallon easy dunker dunk tank is a great addition to any event, lots of fun, and will bring excitement and plenty of splashes! Comes with large and small targets and six "dimple" softballs. Any age range is able to participate, but only those 18 years of age and older can be dunked. Make your next gathering unforgettable by incorporating this high-stakes, low-cost thrill, and let the fun times roll! Trust Jump Around BCS to deliver the ultimate dunk tank experience that'll have everyone talking long after they've dried off.
And don't forget about exciting interactive games that add a little friendly competition and cheer to events of all types! Our High Voltage Wrecking Ball, Inflatable Air Axe, and Whack A Mole are always popular contenders. Interactive inflatables are a great way to test one's skills and face off against an opponent. These exciting rentals are perfect for corporate picnics, community events, church outreach activities, and so much more! All of our interactive inflatables are cleaned, sanitized, and properly installed for your guest's safety.
Delivering Exciting Bryan College Station Dunk Tank Rentals to Surrounding Areas
We're proud to deliver the best Bryan College Station dunk tank rentals that make every event special across Brazos County! Our service area includes the 77840, 77841, and 77842 zip codes in BCS and the neighboring cities of Navasota, Caldwell, Iola, Bedias, Hearne, and Rockdale. Our customers enjoy hosting events at our spectacular local parks, including Central Park, Wolf Pen Creek Park, and Lick Creek Park. Be sure to add inflatables, generators, interactive games, and concession machine rentals in Bryan/College Station to complete your outdoor event.
Being part of a community means embracing its spirit, and what better way to do that than by mentioning some of our beloved landmarks? Whether you're going to cheer on the Aggies at Kyle Field, seek some intellectual stimulation at the George Bush Presidential Library and Museum, or even hit the vibrant scenes at Northgate Entertainment District, you'll find Jump Around BCS right there with you, adding a dunk tank or two to make things even more memorable at exciting local events!
With our Bryan College Station dunk tank rentals, we know a thing or two about making a splash in the community! Our dunk tank rentals aren't just a great way to have fun; they're a staple at many local events, from school fundraisers at College Station Independent School District to corporate gatherings. As we continue to serve our neighbors, friends, and the entire community in Brazos County, our aim is to contribute positively to the place we all call home. So if you see a dunk tank making waves at your next event, chances are it's one of ours. Come join in the fun and schedule rentals online today!
Where To Rent A Dunk Tank In Bryan College Station And Other FAQs
If you've got questions like where to rent a dunk tank in Bryan College Station, we've got answers. Check out our FAS below to make your dunk tank rental as smooth as a splash landing! If you need additional help or information, our team is just a phone call away at (936) 463-8314.