Mechanical Bull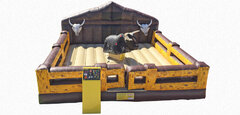 Mechanical Bull Rental College Station
Saddle up and ride with the mechanical bull rental College Station can't get enough of from Jump Around BCS! If it's a rodeo of a good time you're after, we're here to lasso in the excitement with the bucking and spinning of our top-of-the-line mechanical bulls. From the thrill of the ride to the challenge of staying aboard, we offer a rootin' tootin' good time for all ages in Bryan/College Station, Texas , and the surrounding areas of Brazos County.
What sets our company apart in the wild, wild world of party rentals? It's our commitment to safety, quality, and a darn good time. We've got the mechanical bull rental College Station trusts to be meticulously maintained, equipped with the latest safety features, and operated by trained professionals who ensure every rider has a safe and unforgettable experience. Whether you're hosting a western-themed party, a corporate event, or just want to add a unique touch to your celebration, our mechanical bulls are ready to kick up their heels and add a dose of excitement to special occasions big and small.
At Jump Around BCS, we've got everything you need to make your event an unforgettable adventure, including the mechanical bull rental College Station uses to have an unforgettable time. Check out our inventory and discover how we can turn your next event into a full-blown hoedown. Yee-haw, College Station, we're ready to make your party the talk of the town with top-quality and entertaining rental equipment!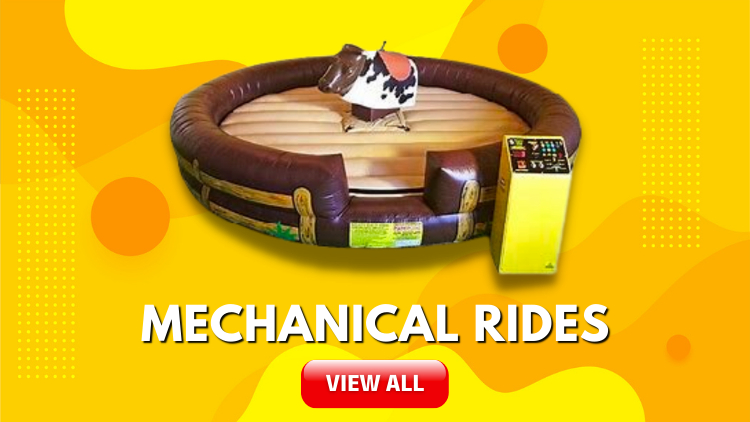 Mechanical Bull Rentals in Bryan College Station TX That Bring Excitement To Any Event
Our mechanical bull rentals in Bryan College Station TX are the ultimate addition to nearly any event, infusing an unforgettable touch of the Wild West with adrenaline-pumping excitement. Whether it's a corporate function or a lively community gathering, our mechanical bull brings smiles, laughter, and a competitive spirit to all. Here's a roundup of ten thrilling occasions where our mechanical bull rentals can steal the show:
Corporate Events: With our mechanical bull rental in College Station, customers can add a twist to the usual office party with a bull-riding challenge that builds teamwork and camaraderie.
Birthday Parties: Offer a unique entertainment option in your backyard that will have guests talking long after the candles are blown out.
Community Festivals: Provide a fun-filled attraction that connects community members of all ages. Participants and viewers alike will enjoy watching everyone take a shot at the bucking bronco!
College Parties: Break the ice and add a lively Western vibe to the campus celebration. Fraternity and sorority groups, college clubs, and other organizations use our mechanical rides for tailgating, team-building, celebrations, and more.
Wedding Receptions: Offer guests an unexpected delight during the reception that adds a touch of rustic charm while keeping attendees of all ages entertained.
Charity Fundraisers: With our cheap mechanical bull rental in Bryan College Station, customers create a buzz with a bull-riding competition, a fun way to raise funds for a good cause.
Western-Themed Events: Customers wondering where to rent a mechanical bull in College Station can add a ride to complement the cowboy hats and boots with an authentic bull ride, perfect for that thematic flair.
Graduation Parties: Celebrate this significant milestone with a ride on the wild side that graduates won't forget.
Family Reunions: Bridge the generation gap with a mechanical bull that offers excitement for family members young and old.
Outdoor Concerts and Festivals: Enhance the concert experience with an exciting sideline attraction that resonates with the upbeat energy of live music.
With our mechanical bull rentals in Bryan College Station TX, customers can bring excitement to all kinds of events and find new ways to bring the rodeo wherever they are! Don't forget to browse our other exciting equipment to complete your event, including inflatables, interactive games, concessions, and dunk tank rentals Bryan College Station uses to level up the fun!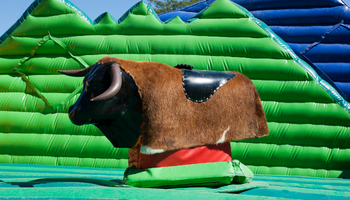 How to Book Our College Station TX Mechanical Bull Rental Online
Booking our College Station TX mechanical bull rental for your next event is simple and straightforward! Our online process is streamlined and user-friendly, designed to make your reservation quick and hassle-free. So, whether it's a bucking good time for a birthday party or a wild Western-themed corporate event, here's how you can lasso your mechanical bull rental online:
Select the Mechanical Bull: Review all of the exciting details about our mechanical bull ride and add it to your cart!
Select Rental Date: Pick the date that aligns with your event to ensure availability.
Select Event Start Time: Choose the start time to have everything ready when your guests arrive.
Select Event End Time: Determine the end time so we know when to come to pack things up.
Check Out: Before you finalize the reservation, review all the details and pricing to make sure everything is just as you want it, then proceed to check out. Use any major credit card to submit the required deposit.
With a few simple clicks, you'll reserve College Station TX mechanical bull rental and be on your way to hosting an event that's truly unforgettable, thanks to Jump Around BCS's mechanical bull rental. Yeehaw!
Delivering the Best Mechanical Bull Rental Near College Station and Surrounding Areas
By providing the best mechanical bull rental near College Station, we're a cherished part of the vibrant Bryan-College Station community. We proudly serve the folks living in the 77840, 77841, and 77842 zip codes, and we're always thrilled to add a dose of excitement to the local events near Navasota, Caldwell, Iola, Bedias, Hearne, and Rockdale. Whether it's a fundraiser for the College Station Independent School District or a community gathering at iconic landmarks like Kyle Field, the George Bush Presidential Library and Museum, or the bustling Northgate Entertainment District, our mechanical bulls are always the life of the party.
Our community is rich in scenic beauty and outdoor spaces, making it the perfect place to rent our mechanical bulls. Local parks like Central Park, Wolf Pen Creek Park, and Lick Creek Park offer idyllic settings for a range of events, and our bulls fit right in! Families and communities gather in these parks for picnics, BBQs, and festivals, and when they do, our team is honored to contribute to the fun.
By being a part of the Bryan-College Station community, we don't just provide mechanical bull rentals; we help create cherished memories across Brazos County. Each time our mechanical bull makes an appearance, it's another opportunity for us to connect with our neighbors, strengthen our community ties, and bring smiles to the faces of young and old. With our mechanical bull rental near College Station, you're not just renting a mechanical bull; you're becoming a part of a community that knows how to have a good time!
How Much Is It To Rent A Mechanical Bull In College Station TX and Other FAQs
If you're wondering how much is it to rent a mechanical bull in College Station TX, our FAQ section has all the answers you need about making your mechanical bull rental a rip-roaring success!